Somerset CCG 'lessons to be learnt' over fatal stabbing of Mike Bithrey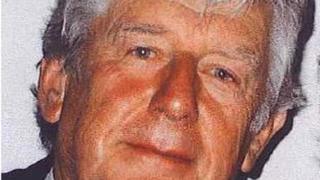 A health board said "lessons must be learnt" in the case of a man in its care who killed his landlord.
Mike Bithrey, 72, from east Devon died after being stabbed in the neck by Anthony Andrews, 84, outside his Bridgwater property in June 2012.
Andrews, a dementia patient who was under the care of Somerset Partnership NHS Foundation Trust, had made threats against Mr Bithrey.
A review of the incident said this had not been fully disclosed to Mr Bithrey.
The independent report by health consultancy Verita also found that Andrews had a conviction for stabbing his wife which had not been disclosed to Mr Bithrey by the Trust's community mental health team (CMHT).
'Timely sharing of information'
It also noted that CMHT staff did not have a discussion with the Trust's safeguarding team to discuss whether Andrews should have been referred to Multi-Agency Public Protection Arrangements (Mappa) which deals with violent offenders.
Verita concluded that had Mr Bithrey been informed about Andrews' previous conviction, his lack of remorse about stabbing his wife and his threats against Mr Bithrey, the incident may have been prevented.
It recommended that Trust staff receive training around access to safeguarding advice and guidance from specialist services in order to correctly assess risk to individuals.
Somerset Clinical Commissioning Group's Lucy Watson said she accepted that the "timely sharing of information regarding a potential threat to a person was the central lesson to be learnt from this review" and was "reassured" that the Trust was implementing the recommendations made in the report.
However she added: "It can be challenging for health professionals to come to an accurate judgement regarding the potential risk of an individual harming themselves or others."
Following the incident, Andrews was detained at a secure psychiatric hospital, and has since died.