Bath Abbey sinking floor helped with pies and cakes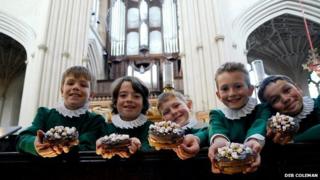 More than £1m has been raised to fix Bath Abbey's stone floor which is sinking because of 8,500 bodies buried beneath it.
A pie and cake sale is taking place later to continue fundraising.
Katie McGill, of the abbey, said they were "overwhelmed" by the city's support and had "enough cakes to fill the North Aisle three times over".
The abbey won a £10m Heritage Lottery Fund grant for the work but must find £7m to "unlock" the funding.
The medieval abbey, dating from 1499, attracts about 500,000 visitors a year.
In 2011, it was found its long-term stability was being affected by the thousands of bodies buried just below its stone flooring, causing it to gradually collapse.
The abbey said the floor had dropped by about 7.5cm (3ins) in the past two years and "essential repairs" were needed to make the building more sustainable.
An "eco-friendly" underfloor heating system using the city's hot springs as a source of energy, is also due to be installed.
Laura Brown, from Bath Abbey, said the building was under "massive strain" and in "desperate need of repair and renovation".
Ms Brown said: "We're bursting at the seams. The floor is slowly collapsing, space is severely restricted, and the building is struggling to cope with the huge numbers of people who use the abbey every day.
"Our vision is to maintain and make the most of what we have in order to continue inspiring all for hundreds, if not thousands, of years to come. And what better way to bring people together in aid of this good cause, than over a slice of cake?"
More than 25 community groups, businesses and schools are taking part in the Great Bath Bake Sale at the abbey between 13:00-16:00 BST.