Musgrove Park eye surgery report 'should not be passed on'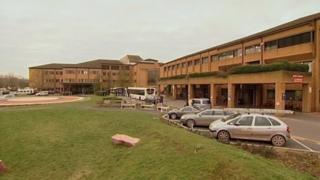 Patients who had eye surgery at a Somerset hospital are being warned not to share a report into what went wrong.
Surgery was carried out by Vanguard Healthcare at Musgrove Park Hospital in Taunton in May. The cataract operations left some with blurred vision.
The hospital shared the report with those affected but will not release it over fears it could defame Vanguard.
A lawyer acting for affected patients has said he could not see how a hospital report could be libellous.
Patients were told the report's findings were "strictly confidential and are not to be disclosed to anyone".
The hospital refused to show the report to the BBC.
'Completely baffled'
Solicitor Laurence Vick added: "This is meant to be a factual in-depth report and to talk about it, if criticism is being made of Vanguard, I can't see how it could be libellous.
"In any event, if it does contain criticism of Vanguard that's libellous then that report has already been 'published' in legal terms because it is being circulated to the patients.
"It's completely ridiculous, I'm completely baffled."
Both the hospital and Vanguard have declined to make any further comments.
Vanguard Healthcare had been hired to provide the theatre to help clear a backlog for some ophthalmic services.
It had been contracted to carry out 400 cataract operations in a mobile theatre.
Surgery was carried out on 62 patients with just under half reporting complications while 15 people had "more significant" corneal issues.