Hundred-year-old Somerset school photographs handed over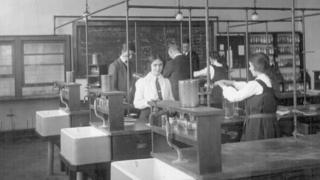 Century-old photos have been given to the school in Somerset where they were taken after they were found at a recycling centre 150 miles away.
The albums have been handed over to Sidcot School in Winscombe by John Beesley, who found the discarded snaps in Hertfordshire.
Detective work led him to identify the school.
The photos are thought to have belonged to Norah Hudson, who was a pupil there between 1912-13.
Mr Beesley, from Berkhamsted, said: "The photos were unexpected and seemed to be of a private or public school without strict rules or uniforms, boys and girls in the same class and girls studying physics. I thought this doesn't look normal for 100 years ago."
He said he was able to identify the school after noticing Sidcot's Quaker Meeting House in one of the pictures. Sidcot is one of only nine Quaker schools in the UK.
"The current prospectus showed a picture of the library. It was an exact match to the century old photograph I was holding," he said.
Sidcot's archivist Christine Gladwin said very little was known about Norah Hudson.
"I was very moved to receive the photo album together with some watercolours which may have been painted by Norah," she said.
"The photos are a wonderful insight into life at the school 100 years ago - but I would love to know how her story ended."
Mr Beesley said he suspected the archive of photographs, which also included pictures of Ms Hudson in later life, had been dumped following a house clearance.
"Maybe we got to the point where there was no other family. It seems so sad that someone's life is put out as junk."