B3168 closure: Major work begins on weather-damaged road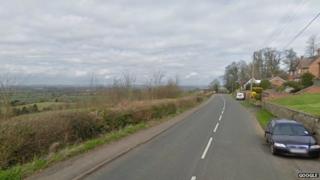 Major work to rebuild a road in Somerset, closed since February following extreme wet weather, is under way, the county council has said.
Prolonged heavy rain earlier this year caused the B3168 at The Beacon in Ilminster to move and there were "concerns for the safety of drivers".
Somerset County Council said "extensive geological surveys" found two areas in need of repair.
Conservative councillor Harvey Siggs said it should reopen before Christmas.
"I know the road closure has been frustrating, but there was a serious problem and we had to be sure we were fixing it properly," the cabinet member for highways added.
"I'm pleased we will be able to do this and also increase the strength of the road to protect against future problems."
Mr Siggs said he was "optimistic" the works, which include a full reconstruction of the highway and footways and a new drainage system, would be completed in seven weeks.