Housing built in Somerset village for 'local people' only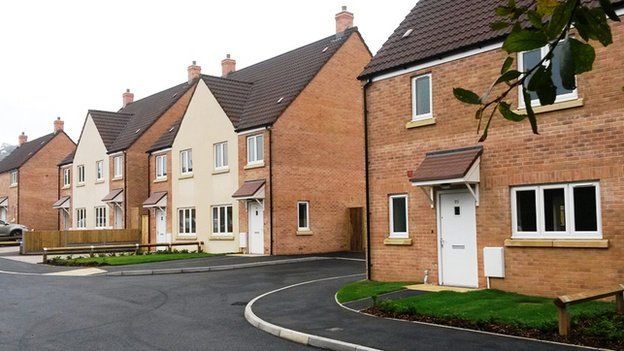 A housing development in Somerset exclusively for people with a "strong local connection" has been completed.
The 10 homes in Norton-sub-Hamdon were built by Yarlington Housing Group on land owned by the Community Land Trust.
The houses have been allocated to people who have lived in the village for five years, work there or have close relatives there.
Barbara Richardson, from the group, said even with the local requirements the development was oversubscribed.
The two and three bedroom homes, consist of eight properties for affordable rent and two for shared ownership.
But to meet the "local connection criteria", applicants had to either show they lived in the village for at least five of the last 10 years, be permanently employed there for at least a year or have a close family member resident there for the last five years.
"Even with the local connections, there were still two or three times the number of people that we could house in those 10 properties," said Ms Richardson.
"Everybody knows we need more homes but they don't always want them on their doorstep. With a scheme like this, people can see the real benefits because the properties are specifically designated for people with local interest."
Jenny Allen from the National Housing Federation, which campaigns for affordable housing, said the scheme's success was also due to a "huge amount of community engagement and support".
"That's the key to making sure development takes place - particularly in rural areas," she said.
"It's really important they [residents] see that people in the community are going to benefit and using a Community Land Trust approach is a really great way of making sure that happens."
Related Internet Links
The BBC is not responsible for the content of external sites.