Ministry of Justice rejects Shepton Mallet prison plans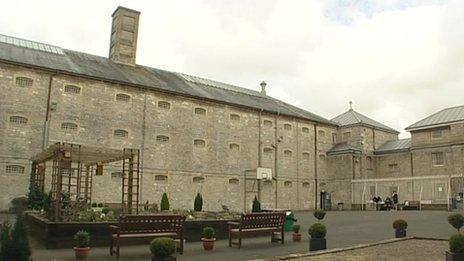 Two local bidders who wanted to take over a former Somerset prison building have both been told they have been unsuccessful, the BBC has learned.
The MoJ said it had looked at the bids and was in "commercial negotiations", but did not say who would buy the site.
Bidder Joel Campbell said he was "disappointed" he was not successful.
"Now it's a waiting game to see if the winning bidder comes forward and announces their plans for the site," the Shepton businessman added.
"From there, we can take stock and then make a decision on how we moved forward, whether there are any potential working partnerships.
"[The site has] got a huge amount of history and heritage and we just truly feel that it should be used as a heritage site."
Mr Campbell had hoped to convert the listed building into a museum, restaurant, space for cognitive behavioural therapy courses, a gym, library and hotel.
The second bidder known to the BBC, builder and developer Pat Bridgeman, also confirmed his bid was unsuccessful.
In a statement, the MoJ said: "We have worked with a number of organisations, including the local authority and English Heritage, and will always seek best value for the taxpayer."
Shepton Mallet prison was the oldest working prison in England and closed last March.
Related Internet Links
The BBC is not responsible for the content of external sites.