M5 fog detectors for Taunton crash site ruled out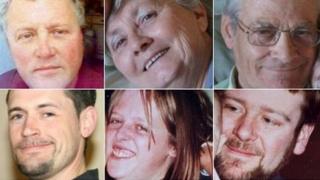 The Highways Agency said it will not heed recommendations to install fog detectors at the scene of a motorway crash in which seven people died.
The 34-vehicle pile-up near junction 25 of the M5 occurred at Taunton, Somerset, in November 2011.
An inquest in April heard there was thick fog in the area that night and several recommendations were made by West Somerset Coroner Michael Rose.
In a letter to Mr Rose, the agency said it would use more gantry safety signs.
"It remains our professional view that fog detectors would not have prevented these collisions," the letter continued.
"They occurred within an area of reduced visibility and therefore it was this reduced visibility that led to drivers being disorientated."
The agency confirmed it planned to invest "in an expansion" of its Motorway Incident Detection Automatic Signalling (Midas) provision around junction 25, which it said had a proven record of "achieving around a 13% accident saving."
The crash happened close to a fireworks display at Taunton Rugby Club.
Geoff Counsell, the organiser of the display, was cleared of a health and safety offence in 2013.
At April's inquest, Mr Rose ruled firework smoke was "not to blame" but said it may have mixed with fog to further reduce visibility.
He floated the idea of better training for those who stage displays, something the Health and Safety Executive and Department for Business, Innovation and Skills have supported.
In two further letters released by Mr Rose on Wednesday, both organisations agreed to improve training but did not support the idea of licensing fireworks operators.
The seven people who died were:
Michael Barton, 67, and his daughter Maggie, 30, from Windsor in Berkshire
Grandparents Tony and Pamela Adams, from Newport, South Wales
Battle re-enactor Malcolm Beacham, 47, from Woolavington, Somerset
Lorry driver Terry Brice, 55, from South Gloucestershire
Lorry driver Kye Thomas, 38, from Cornwall