Damaged window at Bishop's Palace in Wells made safe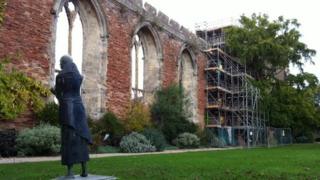 A £100,000 project to repair one of the large stone arch windows at the Bishop's Palace in Wells is almost complete.
The 200-year-old central stone pillar - a mullion - has been replaced with a steel rod after it became unsafe.
Conservationist Nick Sharlan said the mullion had been damaged by the weather and internal iron pins were corroding.
Mr Sharlan said the mullion had recently been held in place using cable ties and two blocks of wood.
The palace now needs to raise a further half a million pounds to repair four other windows in the Great Hall wall.
The Great Hall was built in the 1270s and is a Grade I listed building and scheduled ancient monument.
Mr Sharlan said a temporary wooden framework was used to support the window while the mullion was removed and the stainless steel rod, covered in a long-lasting powder coating, put in place.
"It's basically been removed for safety reasons. It wasn't that old, part of refurbishments in the 1800s," he said.
The conservationist said the metal pole was considered to be an "honest" repair, "we are not trying to replicate what was there originally, it's just there to preserve what's left".
The decision to repair it in this way was taken together with English Heritage.
"It will last a very long time. It will probably last longer than the stone above it," Mr Sharlan said.
Scaffolding around the window, and the temporary wooden framework, is expected to be removed this week so visitors can see the finished result.