Musgrove Park Hospital waiting list times investigated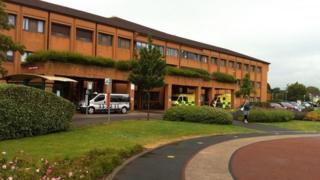 A failure to meet 18-week waiting list targets at a hospital is being investigated.
Monitor, the watchdog which regulates NHS services, said its investigation at Musgrove Park Hospital in Taunton was not focusing on any particular units.
Regional director Paul Streat said: "We need to find out what the problem is and how we can support the trust in its current efforts to cut waiting times."
The trust said it welcomed the support to get a long term plan in place.
'Clinical priority'
A hospital spokesman said many trusts had seen a surge in demand for specific areas - in this case it was in ophthalmology and dermatology - which created a backlog.
He added: "In October 2013 the Trust Board took the view that it was not appropriate to only treat a limited number of long wait patients each month, as those that had passed 18 weeks could end up waiting even longer, while other patients referred after them for the same treatment would be treated sooner.
"A decision was therefore taken to see and treat patients in order of clinical priority and then waiting time. This meant the trust would fail its RTT [referral-to-treatment] target."
The hospital said it had been working hard to solve the problem but there had been "a number of issues" that hindered its progress.
Both day-case surgery and inpatient procedures will be reviewed.
"We are investigating the trust to find out why it isn't meeting these targets and if we need to take further action to make sure local patients aren't waiting too long," added Mr Streat.
Earlier this year, the hospital brought in a private company to carry out eye operations in an attempt to shorten waiting list times.
However, the operations caused blurred vision and complications to half of the 62 people treated before the operations were stopped.
The hospital trust carried out an internal investigation and found operations continued despite staff concerns.