Norton St Phillip villagers frustrated over lorries breaking weight limits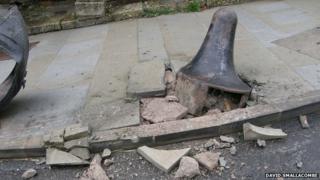 Traffic campaigners are calling for HGV drivers to get penalty points on their licence for using a weight-restricted road in a Somerset village.
The A366 through Norton St Phillip has a 7.5 tonne-limit but some HGVs ignore the warnings, causing damage to the pavements, campaigners claim.
They say it is not unusual to see 20 to 30 HGVs in a day in the village.
The government says there are no plans for penalty points but fixed penalty notices had risen to £50 last year.
'Harsher penalty'
Campaigner David Smallacombe said the signage needed to be much clearer on the A366 and the A36, which vehicles turn off from.
He added: "Clearly people are using this as a cut-through in order to avoid a longer journey and it doesn't a take scientist to work that a £50 fine is going to be regarded as an operational cost for the organisation rather than a deterrent."
Somerset County Council has said it is working to put up new signs.
Avon and Somerset police has said it is stopping vehicles to check they are not breaking the rules.
Insp Mark Nicholson said: "We talk to the drivers, and they will also have a ledger of where they are delivering to - and where they've just come from - so we're able to prove or disprove their legitimacy for being in the village.
"The penalty is that they get a fine but they don't get points on their licence.
"But personally, although it's for the politicians to decide, the harsher penalty should be to get points on their licence so then it affects the driver's employment."