Businessman accuses council of 'ridiculous' objections to private toll road at Kelston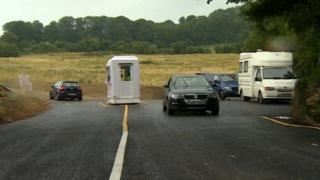 A businessman who built an unofficial toll road in Somerset, claims council objections to retrospective planning permission have been "ridiculous".
Mike Watts opened the 400m (1,312ft) road in August, following the closure of the A431 due to a landslip.
He said he was "forced" to apply for permission but officers were "treating it like a permanent road".
Council leader Paul Crossley said: "Any planning application takes 13 to 14 weeks to discuss all the issues."
The main Kelston Road, between Bath and Bristol, was shut in February and a 10-mile (16km) diversion was put in place.
The private toll road, which cost Mr Watts £150,000 to build, provides a short cut through adjacent fields and has remained open to traffic while planning permission is sought.
He is projected to recoup its total construction and running costs this month.
Although the road did not have planning permission, Mr Watts said he had been "forced" to apply for it retrospectively.
"I've done everything they've advised me to do and it's cost us £25,000 with consultants and architect's fees and it's now a week or so away from the road re-opening and we still haven't got planning permission," he said.
"Everyday another objection seems to come in from some department from the council which is just delaying the whole process.
"I'm amazed that people around the world have embraced this initiative and yet the council has not."
'Road is redundant'
But Mr Crossley, Lib Dem leader of Bath and North East Somerset Council, said they had to "ensure" the work done "conformed to regulations".
"What we said to Mike at the very start was that we would allow him to go ahead provided he put in a retrospective planning application," he said.
"The fact that the length of time it takes meant that by the time the planning application is determined the road is redundant is part of his good fortune because it meant it didn't have to go through to complete the process."
The A431 has cost £2.6m to repair and is due to re-open within the next two weeks.