Somerset County Council warned against adult housing cuts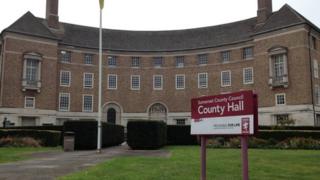 More people will end up sleeping rough if planned cuts to Somerset County Council's adult housing budget go ahead, a homeless charity has warned.
Taunton Association for the Homeless's (TAH) concerns are shared by Sedgemoor and South Somerset councils.
Ex-offenders and people who are homeless or at risk of homelessness would lose supported accommodation and help in managing budgets and debts.
The Conservative-led council says it needs to making savings in all areas.
'Increasing issue'
A spokesman for Somerset County Council said: "In 2015-16 the cost of contracts in the Pathways for Adults programme would be £2.9m if no changes are made.
"If the proposed changes are approved the net savings will be £879,400."
Part of the service TAH, and other charities, offer include helping vulnerable adults find suitable housing, understand their housing rights, find jobs and training.
Chief executive of TAH, Justin Roxburgh, said: "While I sympathise with Somerset County Council, there would be a lot more homeless people on the streets if funding was cut."
But a county council spokesman said: "Pathways for Adults faces the same challenges in reducing expenditure as every other service the council provides."
The proposed cuts were leaked to the BBC in a letter sent to organisations and district councils paid by the council to provide these services.
Adults in contact with mental health services will not be affected.
Help for homeless under-25-year-olds will remain the same as it is legally required.
Mental health problems
South Somerset District Council leader, Liberal Democrat Ric Pallister, said: "We will be tackling this on two fronts - one will be as each individual council and I chair the Somerset group of housing bodies and we will be making a submission to the county as a group."
If the proposals are backed they will take effect next August.
Dave Baxter, strategic housing manager at Sedgemoor District Council said: "People who become homeless pick up other issues. They do have emotional problems that could led to drug and alcohol problems, it can certainly lead to mental health problems.
"You're reaching them at a stage potentially before they get mental health problems - if that service isn't there, then mental health can become an increasing issue."