Somerset flood prevention body gets go ahead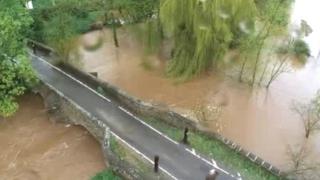 Proposals for a new organisation to oversee flood protection measures in Somerset have been approved by the local authority.
The planned Somerset Rivers Authority (SRA) forms part of the county council's 20-year Flood Action Plan.
It will focus on enhanced maintenance of river channels and flood banks along the county's waterways in order to help reduce the risk of flooding.
The council is to seek £2.7m of interim government funding for the project.
Once up and running, the council plans to fund the authority via a council tax increase of approximately £25 per year.
River authority 'essential'
Somerset County Council's John Osman said: "All of us involved in the 20 year flood action plan are adamant that an independent, transparent and accountable Somerset Rivers Authority is essential if we are to reduce the likelihood and impact of future flooding in Somerset."
He said he is "urging" a meeting with Environment Secretary Elizabeth Truss and Eric Pickles, secretary of state for communities and local government, to discuss funding.
Large parts of the Somerset Levels spent much of the winter of 2013-14 under water.
Villages were isolated, homes evacuated and the farming community in disarray amid relentless rain.