Wells Cathedral's Jesse window project completed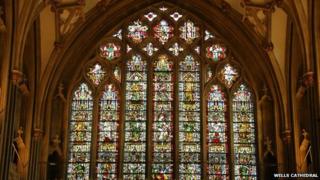 The restoration of a 14th Century stained glass window at Wells Cathedral has been completed following a three-year, £500,000 project.
The Jesse Window depicts the genealogy of Jesus dating back to Abraham.
Project leader, Jez Fry, said: "We had lime scale blocking the colours and eroding the paint but the main problem was that structurally it wasn't great."
Specialist glaziers removed each pane for cleaning, soldered on new sections and re-leaded where required.
'Modern resins'
"Our main aim was to keep as much of the medieval glass as possible," Mr Fry said.
"If there was a medieval pane of glass that had a crack in it, we've used modern resins to stick that back together.
"We also wanted to reintroduce an idea of the painted face, so the glaziers have painted a new face [of Jesus] on a modern piece of glass and soldered that over the front.
"So, if in the future people want to fully return it to the medieval condition, we can just remove those pieces."
In 2010, custom-made barriers of glazing panes were attached to the external stonework of the cathedral to protect the window.
It is situated at the east end of the cathedral and dates to about 1340.
The window was made using yellow, red and green glass as well as silver stain, a compound of silver applied to the glass, which can create hues of pale yellow to deep orange.
Although it has taken three years for the work to be completed, the planning and fundraising has taken more than a decade.