Jazz icon Acker Bilk's funeral held in Somerset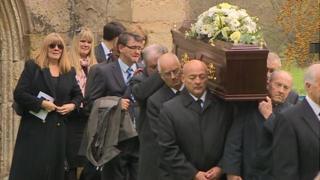 Hundreds of mourners have turned out for the funeral of jazz clarinettist Acker Bilk.
Bilk, who died earlier this month at the age of 85, became an international star after the release of his 1961 hit record Stranger on the Shore.
Friends and family paid tribute to Bilk at the service at All Saints Church in Publow, near his home village of Pensford, in Somerset.
Bilk's manager of 45 years, Pamela Sutton, said it was a "sad day".
'Acker's last gig'
"He was a joy to work with. He was lovely. His whole life was music and he had that distinctive style which was marvellous," she said.
"This is where Acker wanted to be buried. When he was younger he loved painting around here because the scenery is so beautiful."
Tour manager Les Squires described the service as "emotional" and "Acker's last gig", and said the star would have been pleased he had "a full house".
Bilk was born in Pensford on 28 January 1929, and after living in London for much of his life retired to the village.
His real name was Bernard, but he changed it to Acker - Somerset slang for "mate" - after learning to play the clarinet in the Army.
Canon John Simpson, who conducted the funeral service, said he knew Bilk personally and found him "most welcoming and friendly".
He said: "He was a Pensford man, and it is fitting that he should come here. This is what Acker would want, in the village with his friends around him."
A poem of Bilk's about the River Chew was read out during the service, and his song Aria was played as his coffin was carried out of the church.
Bilk died on 2 November after a lengthy illness, and leaves his wife Jean, daughter Jenny and son Pete.