Bath traders fear loss in business over car park closure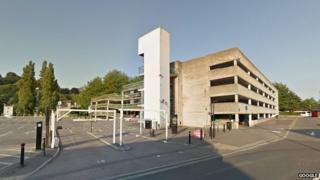 The temporary closure of a 414-space car park in Bath will cause a loss in business, independent traders claim.
Avon Street multi-storey will close next spring to make way for the Bath Quays office development.
Shop owner, Mike Tozer, said: "If they're taking away the limited spaces they already have then its bound to impact on our business."
Bath and North East Somerset Council says there is enough car park capacity in Bath despite the loss of spaces.
'Extra need'
Avon Street comprises 414 spaces in the multi-storey stack and 216 outside. Once the work starts the outdoor spaces will remain and once the multi-storey is levelled it will make room for 200 spaces.
The loss of the remaining 200 spaces is permanent.
Another trader, Matthew Palmer from Bath Electrical Services, said: "We are concerned about the car park being demolished as it will reduce the car park spaces as there aren't enough already.
"Being a repair service, people bring lots of vacuum cleaners to us so if they've got nowhere to stop then it will have a dramatic effect on our business."
The Bath Quays office development is not scheduled to be completed before November 2015.
Chief executive of the Bath Chamber of Commerce, Ian Bell said: "There are businesses which are anxious about losing spaces and some would like to see more car spaces.
"At the same time, we [the Chamber of Commerce] want to see more modern office space - that's the single element that Bath is lacking."
Mr Bell added that losing car spaces was "the price you had to pay" to help create jobs and boost the local economy.
Cabinet member, Ben Stevens, said: "The council has already expanded the three existing park and ride sites and cater for that extra need.
"As far as the transport strategy is concerned, we've also committed to doing an east of Bath park and ride...I'm hopeful the situation won't be bad as the traders are expecting."