A431 Kelston Road reopens as toll road closes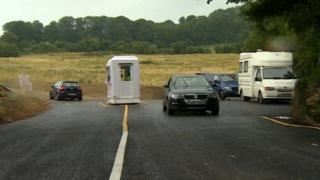 A private toll road built unofficially after a landslip shut a link between Bristol and Bath has now closed after the original route reopened.
Businessman Mike Watts spent £150,000 building a 400m (1,312ft) toll road, offering a shortcut through a nearby field but now says he has "lost out".
Mr Watts said the A431 had been fixed and reopened earlier than he expected.
The council shut the Kelston Road in February and put in a 10-mile (16km) diversion during the £2.6m repairs.
'Not complaining'
Mr Watts said: "We have lost out - a rough estimate is probably about £10,000 to £15,000 adrift. But I'm not complaining.
"It's an absolute catch-22 situation for me because I live in Kelston, so I am pleased the A431 has reopened.
"However, because we were operating the toll road, we needed those extra few days to get our income in, so it's a bit disappointing."
Mr Watts charged drivers £2 each way to use the private road, which was opened in August and built without planning permission.
The road was constructed on a field belonging to farmer John Dinham, who Mr Watts described as a "real hero" and added "he didn't receive a penny".
He said the road "would now be dug up" and "within six months nobody would know the Kelston toll road had ever existed".
Leader of Bath and North East Somerset Council (Banes) Paul Crossley said he was "delighted" the A431 was open again and said the repairs should last "many, many years".
He said Banes had always said the road would reopen "before Christmas".
He said: "We have to recognise that Mike has done a tremendously exciting thing and has caught the imagination of the world and all praise to Mike for trying something out."