Somerset community hospitals 100-beds closure plan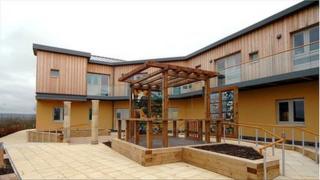 Up to 100 community hospital beds across Somerset could close in a plan by health bosses to save £5m a year.
Under the plan, the 57 "temporarily" closed beds in the 13 community hospitals may shut permanently in addition to 40 beds.
Somerset Clinical Commissioning Group (CCG) says there are no plans to close any hospitals and no final decision has been made.
Community hospital groups say they hope the CCG will listen to their concerns.
Some of their concerns involve ensuring that beds for stroke patients in Shepton Mallet and in-patient beds at Wellington are not scrapped.
'Appropriate care'
The plans also including creating new specialist units for stroke and neuro-rehabilitation.
Dr Rosie Benneyworth, a member of Somerset CCG's governing body said: "This is not about cutting beds and not putting anything else in place, this is about how do we make sure that people get the most appropriate care that's going to give them the best outcome.
"People want to maintain their independence and don't want to remain in hospital unless its absolutely necessary and at present there are people in hospital who would have their needs better met at home."
There are 13 community hospitals in Somerset, including a specialist stroke unit in South Petherton.
The plans would see them being re-classified into one of three different models, which offer varying levels of facilities:
"Step-up units", where patients can be admitted from home. Outpatient care and an enhanced minor injuries unit would also be offered, so there would be more than the diagnostic tests that are usually offered
"Step-down units" where patients would be admitted from larger hospitals such as Musgrove Park or Yeovil District. It would also offer outpatient services
"Health and well-being centres" where outpatient services would be offered, but there will be no in-patient beds
The existing specialist stroke unit would remain
The BBC understands the older hospitals, such as Crewkerne and Wincanton, have in-patient beds but could be developed in to the health and well-being centres.
The proposals will be debated later and will be consulted on for the next 12 months before any decisions are made.