EDF pledges Hinkley Point C contracts for Somerset firms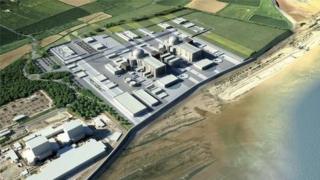 EDF Energy has said it is using Somerset as the template for how it will deliver nuclear builds in the future.
The French company is due to build the £24.5bn plant at Hinkley Point, the first in the UK in almost 20 years.
EDF is encouraging local businesses to get involved during the 10 year build and 60 year life of the plant.
"It's only right that local businesses should have a piece of the action," said Ken Owen, EDF new build director.
When building work begins the site will be home to 5,500 people on two shifts.
"Hinkley C is like a mini town and there will be lots of international companies with massive supply chains so part of our commitment to local businesses is to show what the opportunities are locally," said Mr Owen.