Virginia Woolf marriage proposal marked at Frome station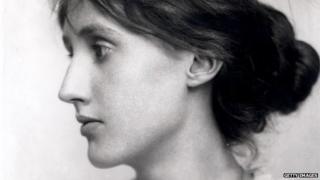 A train journey made by the future husband of the writer Virginia Woolf in order to propose marriage to her has been commemorated in Somerset.
Leonard Woolf caught the 10:29 train from Frome to London in 1912 to ask his fellow writer, then called Virginia Stephens, to marry him.
She did not accept his proposal immediately and only agreed to marry him months later.
A plaque has now been unveiled at Frome station.
Virginia Woolf was a member of the Bloomsbury Group, a circle of writers, artists and intellectuals, and her famous works included To The Lighthouse, A Room of One's Own, and Orlando.
Her husband was a political theorist and a writer who edited a number of magazines, such as the International Review.
His first novel, Village in the Jungle was published in 1913 and based on his time living in Sri Lanka.
Mr Woolf's nephew Cecil, who unveiled the plaque, said the journey to London to propose to Virginia was described in his uncle's autobiography.
"He talks about having set out from Great Elm rectory in Somerset and he walked to Frome and took the train to London and proposed marriage to Virginia," he said.