Somerset Rivers Authority gets £2m government funding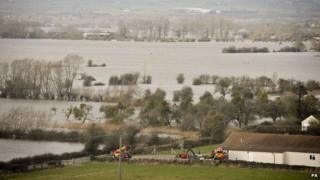 The government has agreed to pay about £2m of the cash needed to start up an organisation to oversee flood protection measures in Somerset, the county council has said.
Another £700,000 for the Somerset Rivers Authority (SRA) will need to be found locally.
Funding will also need to be found to keep the SRA going after 2016.
Council leader John Osman said this could mean a £25 a year rise in council tax if the government does not pay.
Proposals for the SRA, which forms part of the council's 20-year Flood Action Plan, were approved by the council earlier this month.
'One voice'
Mr Osman, Conservative, said: "We've been pushing the government hard for the last few months.
"I was delighted last week when they came back to us to say, 'OK we're going to give you something'. This week they announced it will be the best part of £2m.
"We all stuck together, all the district councils, all the partners, and said to the government in one voice 'we want this money' and government has conceded.
"We could argue over this extra bit of money [£700,000], but I don't think the people of Somerset would forgive us if we were still squabbling when the rain starts again."
He said the county council would "cough up" about £600,000 of the remainder and some of the district councils had also pledged to contribute funds.
Ric Pallister, the Liberal Democrat leader of South Somerset District Council, said it would be contributing about £40,000.
"We will continue to push government for a long-term solution, funding from 2016-17 onwards," he said.
Large parts of the Somerset Levels spent much of the winter of 2013-14 under water.
Villages were isolated, homes evacuated and the farming community was left in disarray, amid relentless rain.