Blue Anchor sea wall defence plan in Somerset being halted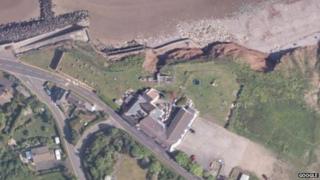 A plan to build a flood defence wall to keep a Somerset hotel from falling into the sea has been abandoned.
In September, a funding bid was made for £570,000 to build a new section of sea wall between the threatened Blue Anchor Hotel and Watchet.
But West Somerset Council says it is now dropping its bid altogether due to time pressures and a financial risk.
Bridgwater and West Somerset MP Ian Liddell-Grainger said the council's decision was "utterly ridiculous".
The landlord of the hotel, Simon Strom, said the property lost 4m (13ft) of garden in three months last winter and said if the cliff was not shored up the hotel would fall into the sea.
Senior councillor, Anthony Trollope-Bellew, said: "We have been faced with an impossible combination of circumstances - extraordinarily tight deadlines and substantial financial risks.
"It's not very hopeful for the hotel and everybody at West Somerset Council very much regrets that. We have made every effort to help the hotel up till now, but we cannot help anymore I'm afraid."
He said the risks included the council having to underwrite the project financially and meet consultation and procurement rules within a stated deadline.
Some £11,500 has already been spent by the local authority on the first stages of the application for Environment Agency money.
Conservative MP Mr Liddell-Grainger added: "I am not prepared to tolerate this shirking of responsibility on such a crucial issue as this and I am taking up the matter immediately at ministerial level with a request that West Somerset be forced to progress the scheme."
The final decision will be made at a council meeting on 17 December, but the recommendation is that the council halts the bidding process.