MP Ian Liddell-Grainger erases fellow Tory from photo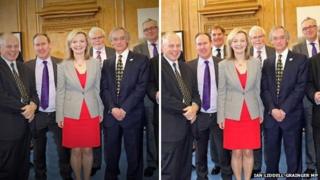 A Somerset Conservative MP has admitted a fellow Tory was erased from a photo on his website because he was "narked".
West Somerset Council leader Tim Taylor's image was removed from Ian Liddell-Grainger's site because the MP felt he had not been involved enough in a rivers project.
The original photo - taken this week to mark the Somerset Rivers Authority's creation - has been republished.
Mr Taylor rejected Mr Liddell-Grainger's claims.
'Troublesome knight'
Mr Liddell-Grainger explained that one of his researchers had edited the image and had been "an idiot".
"I was cross Tim Taylor had taken no part in discussions of the Somerset Rivers Authority," he said.
"It was rather like Becket removing his troublesome knight."
He was referring to Thomas Becket who, in 1170, was murdered by four knights keen to find favour with King Henry II, who was said to famously utter the words, "Who shall rid me of this troublesome priest?"
It is not clear which member of his staff the West Somerset and Bridgwater MP was referring to.
Mr Liddell-Grainger added: "I was narked and my researcher did it as a bit of a joke, these things happen... I've got enough on my plate with the rivers board and Hinkley."
'Candidacy row'
Hinkley Point - sited of a proposed new nuclear power plant - is within Mr Liddell-Grainger's constituency.
Mr Taylor said: "I have attended all the meetings, other than two, when our lead member for the environment attended in my place.
"We agreed the Somerset Rivers Authority should be for the whole county, indeed West Somerset Council made the case for that to happen.
"At personal inconvenience I went especially to London to sign that memorandum of understanding."
West Somerset Labour secretary, Andy Lewis, said however, it had also been fuelled by a general election candidacy row.
"Somerset Labour understands that Taylor was instrumental in a failed attempt to replace Liddell-Grainger as Tory candidate for 2015," he said.