Somerset 'Thames Barrier' scheme 'best for flood defence'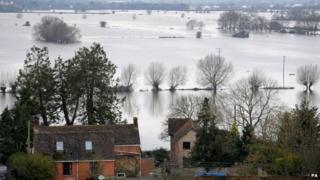 A £32m "Thames Barrier-style structure" is the best way to prevent flooding on the Somerset Levels, experts have said.
The River Parrett barrage is one of the key points in the Somerset Levels and Moors 20-year flood action plan.
Sedgemoor District Council and the Environment Agency commissioned experts to explore what would work best for the River Parrett.
But before the barrier can be built funding will need to be secured along with the necessary planning consent.
'Greater confidence'
The first option being considered was a barrier-style structure which would allow tides to enter the river in normal conditions and exclude tidal surges.
A second option was a sluice to prevent all water from flowing upstream on a permanent basis.
The report stated the barrier option would have "less adverse impacts, resulting in lower costs and greater confidence in a successful outcome".
Now that the preferred option has been stated, a business case will need to be made and a feasibility study carried out.
Last winter saw large parts of the Somerset Levels deluged, forcing hundreds of people evacuated from their homes.
Farmers also felt the effects, with crops being ruined and livestock having to be moved to safer ground for several weeks.