Somerset community given £130k council loan for pub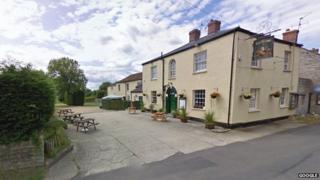 A community group is to get a £130,000 loan from South Somerset District Council in order to buy a village pub under threat of closure.
Drayton Community Pub has already raised £145,000 to secure the freehold of the Drayton Arms which has been registered as a community asset.
On Thursday evening, the council agreed the loan to the group in Drayton, describing it as "a sound investment".
The plan is to run a traditional pub and use it for local events.
Unanimous vote
Drayton Community Pub chairman Nick Lawrence said: "We've got a great community in Drayton.
"We just feel that it's a great pub and we want to save it and develop it for the community."
Tim Carroll, deputy leader of the Liberal Democrat-controlled council said: "It's a very sound investment and we're very pleased.
"It was a unanimous vote to support Drayton and we think they're going to make a success of it."
The pub is on sale and under the terms of its community asset status, residents have until January 24 to purchase the building or it will return to the open market.
A fundraising target of £290,000 has been set by the group and it is in negotiations with owners Admiral Taverns over the purchase.