Bristol Water's Cheddar reservoir cash plan turned down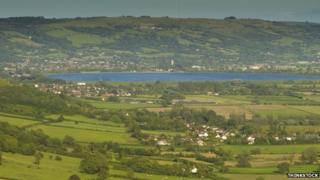 The water watchdog has said it has significant concerns over whether a second Cheddar reservoir would be in the interests of customers.
Ofwat said it will not allow Bristol Water to raise money from customer bills to pay for the £125m project.
The move would add up to £7 a year to bills from 2025.
The decision was made as part of an announcement about what Ofwat will allow water companies to charge for bills over the next five years.
Planning permission for the 9,400-million-litre reservoir, close to the existing one, was granted by Sedgemoor District Council last month.
A Bristol Water spokesman said: "Bristol Water will now consider the final determination carefully and in detail before deciding on its next step.
"It can either accept the outcome or refer it to the Competition and Markets Authority.
"The company has until February to do so - and is not going to rush to make a quick decision.
"It needs time to consider the best interests of its customers."
He said that if the reservoir was built the average customer's bill increase would be staggered up to £7 per annum per household from 2025.
But he added that additional revenue could be gained from 50,000 homes planned for the area. If they are built this would offset the increase.