Somerset primary schools face more hot meals delays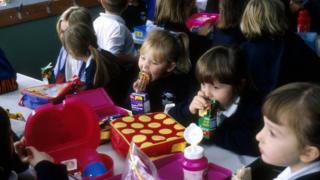 Sixteen primary schools in Somerset are having to wait until January before they can offer free hot meals to their youngest pupils.
Somerset County Council has said the delays are due to building a new catering unit and training staff.
Cabinet member, Frances Nicholson, said: "We are incredibly sorry that not all children and not all schools have got their hot meals by now."
The schools were initially told meals would be available by November.
Under a Liberal Democrat policy, reception and year one pupils are entitled to a free school meal which can be hot food or a packed lunch.
The county council has said its ambition was to offer hot meals to all those entitled to have them.
Ms Nicholson added: "Sixteen schools out of more than 200 have not got the hot meals, so the vast majority have.
"We had to produce within an incredibly short time 100 new food premises. We found the capacity to create 15,000 school meals a day by working with many organisations."
A new catering site is being built at the former St Augustine's school in Taunton and is nearing completion.
A second back-up kitchen is also being tested and staff training is being given so this option can be used if there are any hold ups to the permanent site.
The county council has said hot meals will definitely be offered to pupils by the start of the school term in January.