New church bells in Bath dedicated by Bishop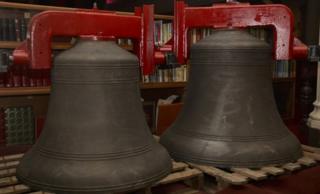 A new set of bells at Christ Church in Bath have been dedicated by the Bishop of Bath and Wells.
The Right Reverend Peter Hancock performed the ceremony during a morning service at the church in Julian Road.
The old bells, which were removed in July, had not been rung for 10 years because the bell frames deteriorated so badly they were declared unsafe.
The project to restore the bells is now nearly complete and the new ones will be hung in the tower next February.
A number of measures to control and direct the sound of the bells upward, to avoiding disturbing the church's neighbours, have been included in the new design.