Axbridge town crier Gladys Chamberlain appointed MBE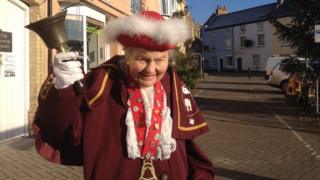 An 81-year-old town crier from Somerset who has raised thousands of pounds for charity has been appointed MBE in the New Year Honours list.
Gladys Yvonne Chamberlain is Axbridge's third town crier and has held the position since 1979.
Mrs Chamberlain said: "This honour is as much for Axbridge as for me. It's for our town... I am quite proud."
Since 1947 she has been a poppy seller, treasurer and standard bearer for the Royal British Legion.
'Home cry'
Mrs Chamberlain, who has been a member of the Axbridge, Winscombe and Weston-super-Mare branches of the legion, said: "I also carried the women's section standard for Weston on the Queen Mother's 100th birthday service and that was a highlight for me."
As a town crier she has competed in Belgium, Canada and Australia, and has visited schools to teach children about the role and the town's history.
"Our 'first cry' is what is known as a home cry and you should sell your own town, and to the best of my ability I have always tried to sell my town because I've always been proud of living in Axbridge," she said.
"I was born here, and I'm the oldest lady living in Axbridge who was born in Axbridge."
Mrs Chamberlain also held the record for several years running for the most money collected in one year by a single British Legion poppy seller.
She will be giving up her role as town crier next May.
Alasdair Stirling, from Wrington, head of future submarines at the Ministry of Defence, has been appointed CBE for services to defence.
Others appointed MBE in the county include:
Maureen Hudson, chairman of the Musgrove Leukaemic Group Somerset
Sarah Hunter, from Bath, vice-captain of the England Women's Rugby Union team
Peter Capener, co-founder and chairman of Bath and West Community Energy
Carolyn Mary Countess De Salis, chairman of the Overlord Embroidery Trust.