'Fairy control' to halt tiny doors in Somerset woods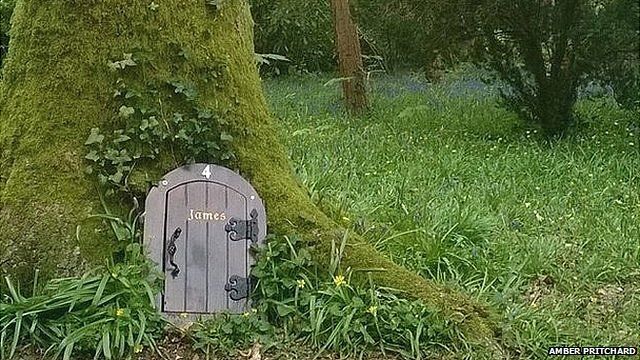 "Fairy control" has had to be brought in at a woods in Somerset to curb the "profusion of elfin construction".
Hundreds of fairy doors have been attached to the bases of trees in Wayford Woods, Crewkerne.
It is claimed the doors have been installed by local people so children can "leave messages for the fairies".
But trustee Steven Acreman said: "We've got little doors everywhere. We're not anti-fairies but it's in danger of getting out of control."
Originally an extension of nearby Wayford Manor Gardens, the 29 acres of woodland boasts a stream, meadow and ornamental lake.
Set up as a charitable trust in the 1990s, it wasn't until the beginning of the millennium that the first fairy moved into the woods and installed a "little door" in the roots of a tree.
"It fitted perfectly, it had a little turned handle and inside was a bed. We didn't know who had done it but we left it there," said Mr Acreman.
"But then another door appeared and now it's gathered momentum."
At its peak a year ago, more than 200 little doors had been screwed, nailed and installed on trees, according to Mr Acreman.
And with little tokens, fairy toys and notes secreted behind some of the doors, it has rapidly become known as "the fairy woods".
"We've had as many as 10 doors put up on a single tree; they surrounded the tree," he said.
"We had a complete fairy fairground arrive, but we rejected that planning proposal."
With elfin construction now including "more and more garish" plywood doors with "lots of tinsel and glittery stuff", Mr Acreman said they have had to bring in "quality control" to remove the worst offenders.
"It's a very complex situation and nobody's admitting that they're evicting the fairies," he said.
"It's just that fairy control is required otherwise we'd be covered in fairy doors.
"We put a lot of time into the conservation of the woods. We're trying to keep people to the paths but the fairy doors are making it a free-for-all."
Related Internet Links
The BBC is not responsible for the content of external sites.