Calls made for 'offensive' MP Ian Liddell Grainger to go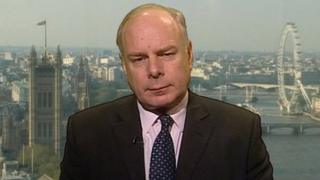 The Conservative MP for Bridgwater and West Somerset is facing calls from within his own party to be deselected as a candidate in the general election.
West Somerset Council's Conservatives group have passed a vote of no confidence in Ian Liddell Grainger.
In the voting papers obtained by the BBC he was described as "back-stabbing" and using "unethical manoeuvres".
The MP is yet to comment but the body in charge of selecting the candidate says it has "every confidence in him".
BBC Somerset has learned the vote of no confidence took place at a meeting on 6 January.
A clear majority of 18 Conservative West Somerset councillors backed calls for him to be deselected.
'Narked'
West Somerset Council leader, Conservative Tim Taylor said: "I can confirm that the motion and supporting reasons were passed by a clear majority of Conservative group members."
Supporting reasons for why they wanted him to go were listed which included:
Over a number of years, it stated, the MP "has made gratuitously derogatory and offensive comments about West Somerset Council, it's leaders and some of its councillors and officers"
Being "proactive in undermining what the council's been trying to achieve on behalf of its residents"
Treatment of "certain individuals has been immoral sometimes by bullying and making fun in public of those unable or unwilling to defend themselves", sometimes to cover up for himself
The end of the document stated his "ill-informed, dishonourable, divisive and destructive behaviour... makes him unfit to be a member of parliament" and the West Somerset Council Conservative Group "does not trust him and lacks confidence in him"
In December, Mr Liddell-Grainger admitted having the leader of West Somerset Council erased from an official photo, because he was "narked" with him.
The BBC contacted the Conservative Association of Bridgwater and West Somerset which decided who its general election candidate should be.
Julie Nicholson from the association said: "Ian Liddell-Grainger is the Conservative Party candidate for the Bridgwater and West Somerset constituency, and I have every confidence in him."