Rare baby tortoises stolen from Puxton Park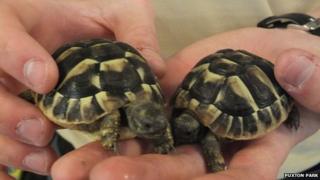 Two rare baby tortoises have been stolen from an animal park in Somerset a day after one was taken and then returned.
The six-month-old reptiles named Teo and Taylor were taken from their enclosure by a visitor at Puxton Park at about 15:00 GMT on Sunday.
In a separate incident on Saturday, Teo was stolen and then returned on Sunday.
Puxton Park said it is "deeply saddened" by the theft and is appealing for them to be safely returned.
Park manager Sarah Warren said: "It's really sad. Security has never been an issue here, it's something we will have to review. Everybody is disgusted."
The tortoises require 35C heat, a special diet and vitamin supplements in order to survive.
Miss Warren said: "We would ask that anyone with information regarding the whereabouts of Teo and Taylor to come forward immediately in order to safeguard them from potential harm."
She said she did not believe the two thefts were linked, and thinks the tortoises may have been taken in order to sell to a reptile collector.
Avon and Somerset Police are investigating the matter.