Kelston private toll road to be returned to fields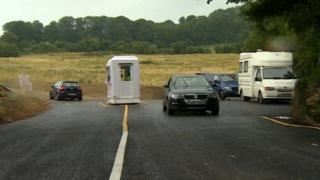 A private toll road built unofficially after a landslip shut a link between Bristol and Bath is being turned back into fields.
Businessman Mike Watts built the 400m (1,312ft) toll road, offering a shortcut through a nearby field while the A431 was undergoing repairs.
The toll road operated for 14 weeks before the council reopened the Kelston Road ahead of schedule in November.
It cost Mr Watts £150,000 to build and he now expects to break even.
He originally estimated that due to the early reopening of the A431 he would incur losses of up to £15,000.
However the original builder of the road has agreed to reinstate the fields free of charge, and HMRC will waive a shortfall in the balance of VAT due from the revenue of toll fees.
'Motoring history'
Mr Watts charged drivers £2 each way to use the road, which opened in August and was built without planning permission.
He said he wanted to thank everyone who showed support for the road, including farmer John Dinham who owns the field the road was constructed on.
Mr Watts said: "It will be sad to see the end of the toll road and for our little bit of Kelston motoring history to disappear without trace, but it is good to know that it served its purpose by helping people go about their daily business whilst the A431 was closed."
Kelston Road was shut by Bath and North East Somerset Council last February and a 10-mile (16km) diversion was put in place.