'Inappropriate' Cherhill village hall protest launched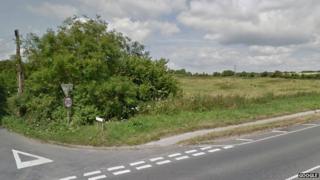 Plans to build a new village near Chippenham will ruin an Area of Outstanding Natural Beauty (AONB), campaigners claim.
Cherhill Village Hall Committee wants to replace the current 40-year-old building with a new one on land at the junction of Park Lane and the A4.
Some locals claim building work would open the way to further development.
A petition against the idea has attracted more than 100 signatures in less than a week.
Susan Lambert from the Save Cherhill Field campaign said: "The proposed site is right opposite the Cherhill Downs which is an Area of Outstanding Natural Beauty.
"It's a real icon of our county with the [Cherhill] White Horse and [Lansdowne] monument. We think that any building so close to this would be really inappropriate.
"There are other sites that could be considered that aren't so sensitive."
John Cavanagh, who is part of a steering group looking at the plans, said: "There isn't even a design yet... But even at this early stage we are determined that we aren't going to do anything that will undermine this beautiful countryside.
"We're looking for a really innovative design that is sympathetic and blends into the countryside."
A local farmer has offered to donate the piece of land on condition that it is used exclusively as the site for a new village hall.