Norovirus closes Bath's Royal United Hospital wards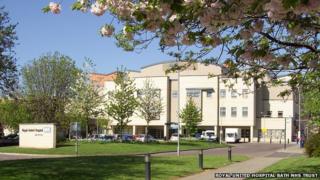 Five wards at a Bath hospital have been closed to new admissions due to an outbreak of the winter vomiting bug.
Members of the public have been asked to stay away from the Royal United Hospital unless absolutely necessary.
The hospital said with an "increasing number of cases of norovirus in the community", the outbreak had "escalated over the last few days".
Five wards have been closed and restrictions will remain in place until at least Monday.
Symptoms of the bug include nausea, vomiting and diarrhoea.
"I cannot emphasise enough how important it is that people planning to visit patients in the hospital stay away if they are unwell," said Yvonne Pritchard, senior infection control nurse.
"If you have experienced vomiting or diarrhoea then please don't visit the hospital until 48 hours after the symptoms have gone away."