Bath truck crash: Mitzi Steady, 4, fund exceeds target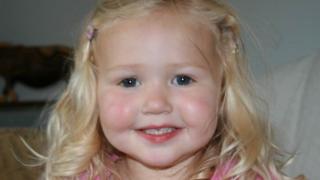 A fundraising appeal in honour of Mitzi Steady, who was among four killed in a truck crash in Bath has exceeded its target in just 24 hours.
The four-year-old was walking with her grandmother on Lansdown Lane when she was hit by a tipper truck last Monday.
The family launched an appeal for £1,000 on Sunday, but three times that amount has been raised in response.
The fund will be given to Brake - the road safety charity - with the family hoping it can be spent locally.
Detectives are still investigating what happened to cause the 30-tonne, aggregate-carrying tipper truck to career down Lansdown Lane hitting vehicles and pedestrians.
Phil Allen, 52, and Stephen Vaughan, 34, from Swansea and Robert Parker, 59, of Cwmbran, also died. Mitzi's grandmother remains critically ill in hospital.
The Steady family posted a message on the JustGiving page saying people were welcome to contribute "as an alternative to purchasing flowers for the funeral".
A later update read: "What an amazing response, we are very touched. Some of the messages written have been really lovely and reminded us to think of the other victims.
"When fund raising is complete we'll ask Brake if there is anything specific they can do for the Weston community and/or Lansdown Lane."