Coastal areas to get 'biggest high tides' for two decades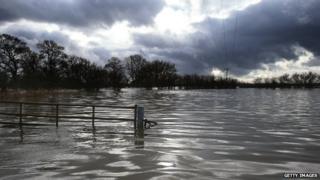 The biggest high tides seen in the West of England in two decades could hit the area this weekend, the Environment Agency has said.
The spring tide will reach the peak of an 18-and-a-half-year cycle which, coupled with bad weather, could cause coastal flooding.
The agency has carried out pre-tide checks and said it is ready to deal with any disruption to sea defences.
A 75ft (23m) temporary dam has been put up in Knightstone Harbour in Weston.
Flood gates in both Burnham-on-Sea and Weston-super-Mare have also been closed in preparation.
North Somerset Council has written to residents and businesses along the coastline to warn them about the potential for flooding.
And Sedgemoor District Council tweeted: "As a precaution for high tides we've set-up our flood wall to act as an extra defence in Blake Gardens, Bridgwater."
Supertides
The high astronomical tides, known as spring tides, will be at their peak between 18 and 23 February.
They will see the position of the sun, moon and earth align in such a way that they combine to create a greater than normal force over the oceans. The greater force means the tides will be higher than usual spring tides.
If these extreme, so-called "supertides" are coupled with stormy weather they have the potential to cause flooding, although the Environment Agency has said it is not likely at the moment.
Analysis
BBC West Weatherman Ian Fergusson
Last winter was characterised by a succession of storms across Southern England, some of which were highly disruptive and damaging.
Associated with that is a phenomenon we call storm surge. This is where low pressure is giving, in effect, a dome to the surface of the ocean underneath it.
So the effect can become quite profound where you have a storm which has travelled a reasonable distance across the Atlantic Ocean in our direction, and particularly so if associated with the pressure dome of rising sea water.
You equally get strong winds giving a fairly long distance to start to bring the wave action up. All of that funnelling into somewhere like the Bristol Channel, or the mouth of the Severn Estuary, can have pretty serious consequences.
The high tides, which in the Bristol Channel will be the highest we've seen for 25 years, would not necessarily bring problems on their own. If it was a benign day we wouldn't be worried about it.
However if you have the storm surge effects behind those then obviously you start to run into potential problems.
And that's the problem. We've yet to pin down a) if there's a problem, which is going to manifest itself, and b) which areas are at threat of that happening.
Environment Agency spokesman John Rowlands said extra teams had been carrying out sea defence checks between Minehead and Berkeley Castle in Gloucestershire, although it was "no different" to the agency's normal work routine.
"What we do not know is what the weather will provide for us at that specific time." he added.
"For us, we are looking ahead now and, whilst there is some wind forecast, generally the direction is fairly favourable for us.
"As the tide builds over the next dew days we will be making sure that our gangs are checking these defences to make sure that they are doing what they should be doing."
Denise Sage, local flood warden for Porlock in Somerset, said: "We're quite used to having high tides. Today we thought it was going to be fairly high, which it has been, but because it's like a millpond, it's actually been no problem at all.
"Tomorrow and Saturday we're expecting very high tides [and] it'll all depend on the wind direction.
"So we just watch with interest but we are very aware."