Somerset hospital restrictions due to Norovirus bug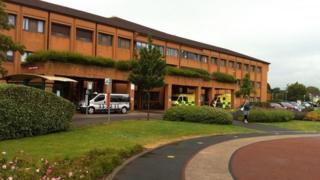 Health officials have asked people not to visit two hospitals in Somerset if they have had sickness or diarrhoea in the last 48 hours.
Access to several wards in Yeovil and one in Taunton's hospital is restricted due to an outbreak of Norovirus.
The winter vomiting bug is easily spread, particularly through contaminated hands, food or water.
Trudi Grant, director of public health for Somerset, said everyone should help to avoid spreading the disease.
Nausea and stomach pain
"As everyone knows, the NHS is under great pressure this winter, especially the hospitals," she said.
"If you experience the symptoms of Norovirus please stay at home and do not go to your GP or hospital for at least 48-hours after the symptoms stop.
"There is nothing your GP can do while you have the symptoms - just keep yourself hydrated by drinking plenty of water."
Norovirus is a highly infectious bug and its main symptoms are vomiting and/or diarrhoea but can also include nausea, stomach pain, headache and aching muscles.
Symptoms usually last for 24 to 48 hours.
Conservative councillor Christine Lawrence, Somerset County Council's cabinet member for health and wellbeing, said the community needed to "help hospitals at this time".
"Norovirus is already affecting them and impacting on health care," she added.