Christ Church 'quieter' bells rung for first time in Bath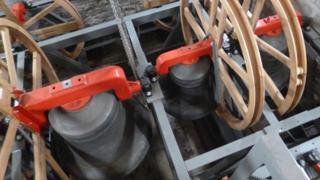 New "quieter" bells in a Bath church have been rung for the first time to celebrate the end of the project to restore them.
The bells at Christ Church in Julian Road had not been used for more than 10 years after being deemed too loud.
Tests by the council's health and safety team on new sound control measures showed a reduction in volume.
Eight bells and their frames were restored in the seven-month project, at a cost of £115,000.
The church said restorers had used several ways to control and direct the sound of the bells upwards, to "avoid disturbance to the church's neighbours".
It said the work had been a success as the volume of the bells at street level was measured at 75 decibels, which it said was "approximately as loud as a vacuum cleaner".
It hoped the sound could be lower still as levels of 60 decibels had been recorded during practices.
The bells were rung on Sunday morning to coincide with Canon Angela Townshend's last service as priest-in-charge of Christ Church.