Bridgwater Tesco store deal formally ends with pay-off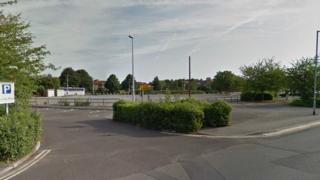 Plans to build a Tesco store in a Somerset town have officially been shelved with all parties agreeing to a pay-off from the supermarket giant.
In January, Tesco announced it would pull out of building 49 new stores, including one planned for Bridgwater.
Sedgemoor District Council said the payment from Tesco would be put towards paying for the new swimming pool at Chilton Trinity School.
Somerset County Council which part-owns the land, has also agreed to the deal.
Neither council has given further details about the payments involved, due to commercial sensitivity.
Sedgemoor District Council took out a £5.3m loan to pay for the new pool and said the Tesco money would go a "considerable way" to paying it off.
The planned 60,000 sq ft (5,574 sq m) superstore was due to be built on the site of the former Sedgemoor Splash swimming pool.
Sedgemoor District Council said it would now reassess how the site could be used in the future.