Controversial nuclear waste transportation plans scrapped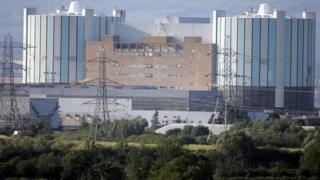 Controversial plans to transport nuclear waste from Oldbury power station near Bristol to Hinkley A in Somerset have been scrapped.
Magnox - which manages the decommissioned site - also withdrew plans to dissolve waste in acid and filter it into the Bristol Channel.
Its "revised waste strategy" will involve storing low level spent fuel debris at Hinkley in concrete boxes.
The move has been welcomed by campaigners opposed to transport plans.
Alan Jeffrey, of pressure group Stop Hinkley, said: "It's much better to deal with the waste where it's been produced rather than transporting it around the country where it's susceptible to accidents or terrorism."
Sedgemoor Councillor Michael Caswell said he had "always been an avid campaigner against the importation of waste to Hinkley", and he was pleased Magnox had scrapped its plans to move waste to the site from Oldbury.
Metal skips
Magnox is still considering proposals to bring metal skips used to store spent fuel debris from other sites to Hinkley.
The company is trialling a milling process which grinds the outer radioactive layer off the skips, with the millings put in the concrete boxes and the remaining metal recycled.
It said if the skips were brought to Hinkley, there would be 25 deliveries over two years.
The company will discuss its revised plans at a meeting with representatives from local councils and campaign groups later.
Magnox said changes could require planning permission and statutory planning consultation before any final decision was made.