Somerset levels floods 'cost county-wide tourism £200m'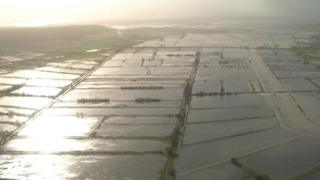 Flooding on the Somerset Levels last year cost the county's tourism industry £200m, according to Visit Somerset.
Just three per cent of the county was affected by the water but the group believes a distorted national perception damaged the area.
It is now seeking £500,000 from the government to pay for a major marketing campaign pushing Somerset as a "staycation" destination.
Tourism minister Helen Grant MP visited earlier to in a bid to boost business.
Visit Somerset has issued a report which outlines public misconceptions about the level of flood damage and offers a marketing "vision" for the county.
'Significant industry'
The board's chief executive, John Turner, said: "I don't think people realise how significant the tourism industry is to the county - it's not only the direct relationship between tourists and providers, but also the ancillary providers like food and drink."
He is one of the representatives meeting with the tourism minister and said he wants to reflect "the full diversity of the county", which includes coast, history and heritage, many National Trust properties, the Glastonbury Festival, the foundations of European Christianity, the historic city of Bath and iconic food brands such as cider and cheddar cheese.
"Clearly Somerset has a huge amount to offer and we're looking to target the Staycation market", he added.