Yeovil District Hospital scales down 'black alert' status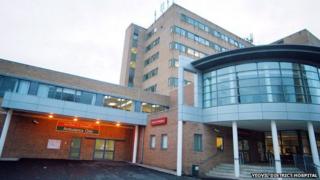 A hospital in Somerset that has been on "black alert" for nearly two weeks has downgraded its status, but said it was still under "significant pressure".
Yeovil District Hospital put a black alert in place on 24 February, after being overwhelmed by demand.
The alert has now been de-escalated to red, due to a reduction in A&E patients and after a small number of beds became available.
The hospital trust thanked people for their "understanding and patience".
However, a spokesperson said although there had been a "slight reduction" in the number of people attending the hospital's emergency department, it was "still under significant pressure going into the weekend".
The hospital will now concentrate its efforts on rescheduling elective surgery appointments and asked that people only attended A&E in case of emergency.