Taunton legal highs shop closure enforced through new laws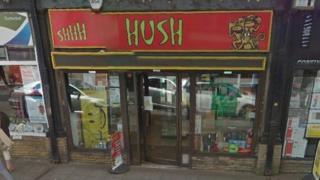 New anti-social behaviour legislation has been upheld in a test case involving the closure of a legal highs shop in Taunton.
Legislation came into force last October allowing police greater powers to close any premises, legal or not, if proved to cause social problems.
In December, the first three-month court order to close Hush was made.
Now police have used the new law to keep the legal highs shop closed with a second order.
'Widespread trouble'
The case was the first time the new legislation had been used to close down legally-run premises, rather than a brothel or drug den.
Sgt Neil Kimmins, from Avon and Somerset Police, said: "We're delighted that the court has allowed another three months on the Hush closure order, which means three more months without the widespread trouble its sale of legal highs was causing."
He said police were in talks with Taunton Deane Borough Council to see what else could be done to prevent the sale of legal highs in the town.
The court order will expire on 16 June.
Shop owner Simon Tomlin did not attend or challenge the order during Friday's hearing.
But the court heard he had indicated he might surrender the lease of the shop.
A challenge was made against the first court order by Mr Tomlin in February but this failed and the ruling was upheld by magistrates.
Last year, Taunton Deane councillors voted unanimously to ban the sale of the substances in premises rented from the authority.
Legal highs, officially known as psychoactive substances, are synthetic drugs that can be bought online and sometimes in shops.