Somerset County Council staff take 46,000 sick days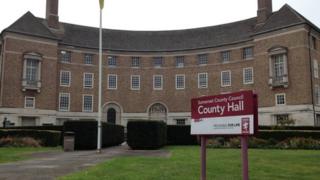 A total of 46,400 sick days were taken by staff at Somerset County Council in one year, its latest annual report has shown.
Stress and other mental health problems were blamed for 10,841 sick days between April 2013 and March 2014 - the reason most often given for absences.
Cabinet member Anna Groskop said the issue was a "big priority".
Trade union Unite said the absences showed council staff were under growing pressure to perform at work.
'Knock-on effect'
Nigel Behan, from Unite, said: "It is also clear that many of today's workers are engaged in more complex and more stressful jobs.
"This in itself can create a situation where short-term absences arise as a result of stressful working conditions.
"This in turn produces a knock-on effect as increased pressure is placed on workers covering the workload of absent colleagues."
Departments with the highest sickness levels were for the adult learning disabilities, children's services and adult health departments.
The council said it had put a number of initiatives in place to educate staff on healthy lifestyles and managing stress.
Staff had also been given "rapid access" to physiotherapy, and a counselling service for personal matters, it added.
According to the Chartered Institute of Personnel and Development, public sector workers in local government took an average of 8.2 sick days last year.
In Somerset, the average was 8.53 days for 2013-14, a fall from the previous year, which was 9.56 days.