Somerset 'lowest tides for 200 years' show marine life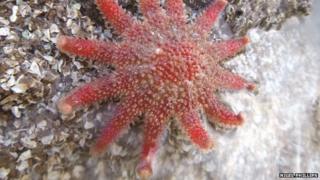 The lowest tides along the Somerset coast for 200 years will enable a glimpse of rarely seen marine species during the weekend, nature experts say.
The tides will drop by 36ft in places such as Minehead where the remains of submerged woodlands can be seen.
Nigel Phillips, of Somerset Wildlife Trust, said: "It was a bit like the Somerset Levels with Aldercar oak and birch woodlands."
Wildlife surveys will also be held over the weekend.
'Layers of peat'
Mr Phillips said: "Ten thousand years ago, looking across the sea to Wales, there was no sea - this was all woodland.
"Then, 6,000 years ago, the sea rose with the glaciers melting. It knocked over these trees quite quickly and they got embedded in the peat they were growing out of. On the low tide you will be able to see these layers of peat with twigs in them."
In Minehead, medieval fish traps - known as weirs - will also be uncovered by the low tides.
"They are 100m long stone walls converging to a point where there is a gap and in that gap people used to put nets so you could catch fish," said Mr Phillips.
"They were first established here in medieval times [between 500 and 1,000 years ago] and probably used here right until the 1920s and maybe until the Second World War."
The types of marine life that can be seen will include common and bloody Henry starfish, strawberry anemone, the common sunstar, pipefish - which are closely related to seahorses - cuttlefish and squid.