Levels hamlet, Chadmead 'needs bund' after 2014 floods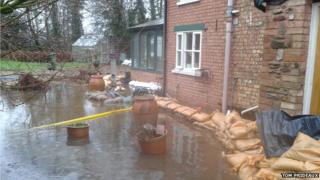 Calls are being made for an embankment to be built around a hamlet on the Somerset Levels to prevent a repeat of the 2014 winter floods.
Most of the 12 properties in Chadmead, which is part of North Newton village, were flooded last year.
Parish councillor, Malcolm Goodland, said: "The water was only in for two weeks but we were out for eight and a half months."
The Environment Agency has said there are not enough funds for the defences.
'Icing on the cake'
Somerset's 20 year flood action plan states that Chadmead and Fordgate, Northmoor and Moorland would benefit from bunds.
The agency said, despite the lack of funds, it is carrying out detailed design work and feasibility studies.
Ian Withers, from the Environment Agency, added wider work done on the Levels such as dredging, meant, "building ring banks around one or two communities needs to be regarded as the icing on the cake".
"It's the ultimate last step to protect against the highest and worst floods," he added.
He also said the bund built at Thorney was critical due to its location.
Resident, Tom Prideaux, said: "It's very important there's a bund. It's a simple fact this is a community that lost a year of life and in some cases nearly two.
"The bunds must go ahead, one 'super bund' will not suffice all three communities.
"It has to be three separate bunds so that water storage is still available to make it work for all but priority given to people and their homes and their lives to be looked after first."
Mr Prideaux said neighbouring Curry Moor normally absorbs the excessive water during floods but the flood levels were so high in 2014 it spilled over into the hamlet.