Bath's Widcombe Parade roadworks 'mismanaged'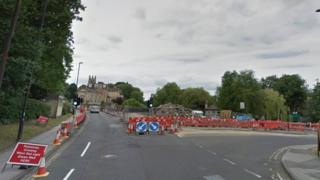 Bath's transport policy has been described as a "never-ending plague of roadworks" by traders in a busy shopping area in the city.
Widcombe Parade roadworks began in July 2014 but will not finish until April - five months past the original deadline.
David Maxwell from the Widcombe traders group said: "With the traffic jams, the lack of parking - it's devastating."
Bath and North East Somerset Council says it cannot finish the scheme until other roadworks nearby are finished.
A council spokesman said: "The north side of Widcombe Parade has been completed and the south side will be completed by the end of this week, except for a few minor elements of finishing work to the pavement and carriageway which need to wait until the A36 traffic is diverted onto Rossiter Road."
The council wants to pedestrianise Widcombe Parade by diverting traffic to the A36.
"We are supporting the scheme itself and the timescale it was originally going to take, what we can't support is how badly it's been managed," said Mr Maxwell.
"I'm very much an advocate for bringing this scheme into Widcombe, it's been asked for for the past 30 years.
"But it's the way they're doing it, I'm objecting to."