Somerset Levels dredging 'making a real difference'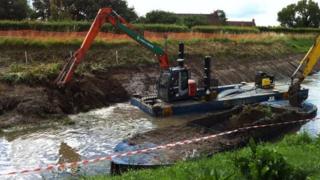 Dredging on the Somerset Levels has made a "real difference" in preventing flooding, a campaign group has claimed.
Last year, the Environment Agency dredged five miles (8 km) of the rivers Parrett and Tone at a cost of £6m.
As a result, the river Parrett levels in Langport this winter dropped much faster than in previous years, the Levels and Moors Taskforce said.
But, academics have said other action is needed like sluice gates to stop silt from coastal tides building up.
Professor of water engineering, Roger Falconer from Cardiff University suggested a sluice gate being installed at Moorland would be effective.
"I would put in pumps there as well - not only would you remove the silt coming from downstream but it will also provide flood storage," he said.
'Pretty dry winter'
He also believes climate change and rising sea levels would affect long-term dredging, carried out by the Environment Agency (EA) on behalf of the Somerset Rivers Authority.
Anthony Gibson, chairman of the taskforce, said despite a "pretty dry winter", there were still two floods in November and January.
"[But] the river level dropped much faster than it has done in previous years, which suggests the dredging has made a real difference."
He also said water storage needed increasing in the upper catchment areas.
Ian Withers, of the EA, said: "It's absolutely critical that maintenance dredging continues.
"We have no money to do that, so it's very important for the Somerset Rivers Authority to find future sources of funding."
The agency said it was working with the government "to find a long-term sustainable funding solution for the years beyond 2015/16", as no long-term fund was in place for dredging.